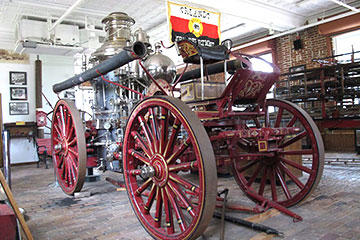 Orlando Fire Museum
Website:
Orlando Fire Museum
Address: 814 E Rollins St, Orlando, FL 32803
Social Media:



The Orlando Fire Department has been providing outstanding service to the citizens and visitors to Orlando, FL since 1885. It is currently headed by 20th Fire Chief Benjamin M. Barksdale, Jr. OFD has 17 fire stations throughout the City, and is in the top 1% of departments in America to have both International Accreditation and an ISO 1 Classification.
In 2016, Orlando Mayor Buddy Dyer renamed the museum in honor of the late Retired Deputy Fire Chief, Randall R. Tuten. Randall followed in his father's, G.F. Tuten, footsteps and became a second generation Deputy Fire Chief for the Orlando Fire Department. Mr. Tuten proudly served the Orlando Fire Department from 1974 – 2002 and served as head of operations at the Orlando Fire Museum from 2004 – 2016. Randall's son, Nick Tuten, is carrying on the family tradition and is currently a third generation firefighter with the Orlando Fire Department.
The Orlando Fire Museum is right next doors to the Orlando Science Center, Orlando Museum of Art, The Mennello Museum of American Art, The Orlando Shakespeare Theater, Orlando Repertory Theatre, and beautiful Loch Haven Park.
Orlando Fire Museum Videos
Orlando Fire Museum Map