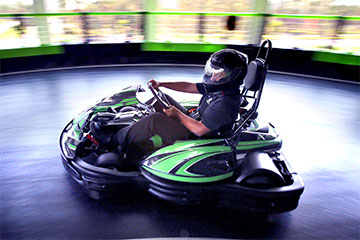 Andretti Indoor Karting
Website:
Andretti Indoor Karting
Address: 9299 Universal Blvd, Orlando, FL 32819
Phone: (407) 610-5020
Social Media:




Experience the adrenaline rush of electric go kart races with instant acceleration, hairpin turns, and long straightaways at Andretti Indoor Karting in Orlando, Florida. This 100,000 square foot entertainment complex has some of the best electric kart models in the industry, the BIZ KARTS. These karts are powerful, ergonomic, safe, and environmentally friendly – plus pack enough torque to take you all the way to victory lane.
From classic arcade and prize games to the latest thrilling state of the art attractions, there's something for everyone at Andretti Indoor Karting and Games. Try out their two-level laser tag arena, high ropes obstacle course with curved rail zip line, immersive virtual reality experiences, and upscale boutique bowling lanes. If you're hungry, you can also sit back and enjoy their full restaurant and bar.
Features
Sky Trail Ropes Course With Curved Zip Line – The Sky Trail indoor high adventure ropes course is suspended above the arcade and is the first one in Florida to feature a unique curved zip line. Their are two levels of elements: Beginner and Advanced. Each experience is approximately 10 minutes in length.
XD Dark Ride Motion Theater – This ride engages your senses, immerses you in a world of action, and delivers an amazing 7D experience that is unlike any other. You actually feel the earth-rumbling movement and wind, hear the sounds all around you. XD Dark Ride is a 3D interactive movie experience with amazing special effects. Up to twelve riders at a time compete for the highest score using laser blasters and battling on-screen robotic cowboys, ghost pirates, and zombies.
Racing Simulators – Experience the rush of professional race car driving, without the danger. Andretti's racing simulators are the most advanced on the market and generate the feeling of driving an actual race car at top speeds on some of the best tracks in the world. It's so realistic that you actually feel the motion and vibrations of the car, experience the tension in the seatbelt, and hear the sounds of the race track. The panoramic screens put you in the middle of the action and take your gaming to a whole other level. These simulators are the same kind that professional race car drivers use, which means you really can train like the pros!
Hologate Virtual Reality – Why play the game when you can be the game? Hologate is a 4-player virtual reality attraction that delivers advanced graphic technology and full sensory immersion for the ultimate level of entertainment. When you put on the HTC Vive headset, you will be immediately transported to a new world; a new reality; a new dimension of thrill.
Laser Tag – Take your gaming into the real world with a two-story laser tag arena. This black light battleground features multiple base stations, energy gates for special power ups during gameplay, and wall targets throughout the arena that interact with the players. Each player can choose their own weapon settings as well as change them throughout the game. With over 10 different games to play, you can go for team versus team, swap teams during a game, or even try zombie mode. Enter the arena and let the laser tag battle begin!
Arcade Floor – The arcade is stocked with the latest and greatest video games. Plus, they have sprinkled in several classics. You can also spin the wheel, sink the ball, or push those elusive coins off the ledge to rack up tons of tickets towards some awesome prizes in their Victory Lane Redemption Center.
Andretti Grill – Enjoy the Big Green Egg burger smoked ribs to the Brick Oven Pizzas, and even the Hot Skillet Cookie Sundae
Hours
Mon – Thu: 11:00 AM – 11:00 PM
Fri: 11:00 AM – 01:00 AM
Sat: 10:00 AM – 01:00 AM
Sun: 10:00 AM – 12:00 PM
Pricing
Parking and entrance are free. Everything else is pay as you go: pricing details.
Nearby Things to Do
Andretti Indoor Karting shares a parking lot with Topgolf Orlando. We recommend visiting both for a fun-filled day! It's also very close to Icon Park, The Wheel at Icon Park, Starflyer, SEA LIFE Orlando Aquarium, and Madame Tussauds.
Andretti Indoor Karting Images
Andretti Indoor Karting Videos
Andretti Indoor Karting Map