The Christmas Tenors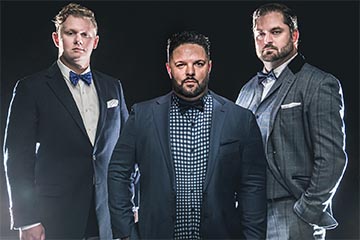 Date: December 22, 2020
Time: 8:00 PM
Place:
Dr. Phillips Center for the Performing Arts
Address: 445 S Magnolia Ave, Orlando, FL 32800
Price: Starting at $54.50 and may change.
Tickets:
Buy Tickets
Website:
The Christmas Tenors
The Christmas Tenors are performing at the Dr. Phillips Center for the Performing Arts in Downtown Orlando, Florida on Tuesday, December 22, 2020.
Celebrate the grandeur of the Holiday Season with The Christmas Tenors as they unite their vocal majesty and usher in an unforgettable musical experience in collaboration with The Villages Philharmonic Orchestra under the guidance of Maestro Pasquale Valerio. The voices of Fernando, Craig and Devin are sure to deliver a performance filled with sheer passion, precision and power.
The Seranad3 (The Serenade), seasonally known as The Christmas Tenors, are a dynamic group comprised of world-renowned singers Fernando Varela, Craig Irvin and Devin Eatmon. The group emerged as a sign of hope amidst a pandemic, collaborating with the likes of David Foster, Gloria Estefan, Voctave and many more.
Audiences may remember Orlando resident and America's Got Talent Finalist, Fernando Varela, from his many appearances on PBS, including An Intimate Evening with David Foster, 2019 GRAMMY Salute to Music Legends or from his very own debut PBS Special, Coming Home, which was filmed right here in the Walt Disney Theater. Rounding out the group are two singers with ties to Central Florida. Devin Eatmon is a fast-rising young tenor from Ocala and in 2020 featured scheduled appearances with Santa Fe Opera, Opera Colorado and LA Opera. Craig Irvin portrayed Gaston in Disney's Beauty & The Beast, as well as numerous leading roles with both Orlando Opera and Opera Orlando. Opera News has hailed Craig's "rich, resonant baritone" while the Dallas Morning News has celebrated his "truly commanding baritone".
The Christmas Tenors Map