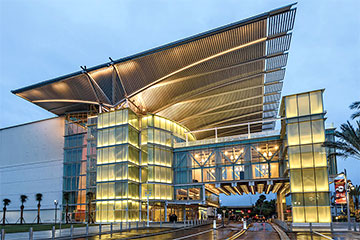 Dr. Phillips Center for the Performing Arts
Website:
Dr. Phillips Center for the Performing Arts
Address: 445 S Magnolia Ave, Orlando, FL 32800
Phone: (407) 992-1754
Upcoming Events:
Events Calendar
Social Media:




The Dr. Phillips Center for the Performing Arts (commonly known as Dr. Phillips Center) is a performing arts center in Downtown Orlando, Florida. The venue features a 2,700-seat amplified hall (Walt Disney Theater) for Broadway theater-class play events and a 300-seat venue (Pugh Theater) for smaller shows and events. A third theater, a 1,700-seat acoustic hall (Steinmetz Hall) for ballet, operas, orchestral performances, and banquets began construction on March 6, 2017, with a completion date in 2021. This multiform theater will transform in shape, seating and acoustics to accommodate a variety of art forms and events.
The venue will cost US$514 million, with the completion of the third stage, Steinmetz Hall. Two-thirds of the funding comes from public funds, largely from the Orange County tourist development tax. The other one-third comes from private donations, including a large grant from the Dr. P. Phillips Foundation, the philanthropic organization funded through the estate of Dr. Philip Phillips.
Dr. Phillips Center for the Performing Arts Features
Walt Disney Theater
Alexis & Jim Pugh Theater
DeVos Family Room
Seneff Arts Plaza
Other stunning spaces perfect for private events
Dr. Phillips Center AdventHealth School of the Arts
And in 2021, Steinmetz Hall and The Green Room
Dr. Phillips Center for the Performing Arts Videos
Dr. Phillips Center for the Performing Arts Map