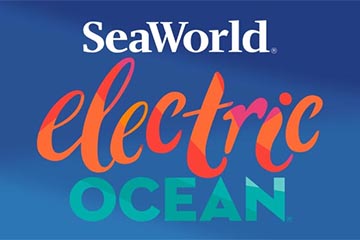 SeaWorld's Electric Ocean
Date: May 27, 2022 - September 5, 2022
Place:
SeaWorld Orlando
Address: 7007 Sea World Dr, Orlando, FL 32821
Price: Starting at $64.99 and subject to change.
Tickets:
Buy Tickets
Website:
SeaWorld's Electric Ocean
Social Media:




When the sun goes down, the night fires up at SeaWorld's Electric Ocean. Stay late all summer to immerse yourself in exotic worlds of light and music and experience your favorite SeaWorld attractions in a whole new way. Join playful, glowing sea creatures and world-class DJs for a family-friendly dance party beneath the waves. Then end the night with the all-new Ignite 360, a fireworks and fountains spectacular that brings the brilliance of the sea to the sky above. Put a charge in your summer at SeaWorld's vibrant Electric Ocean. Select Dates, May 27 – September 5, 2022, including Memorial Day and Labor Day.
View SeaWorld Orlando Pricing and Order Tickets Online

SeaWorld's Electric Ocean Images
SeaWorld's Electric Ocean Videos
SeaWorld's Electric Ocean Map