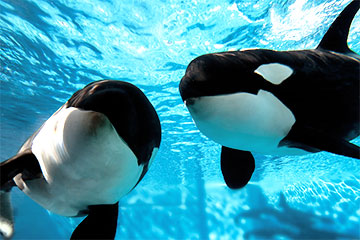 SeaWorld Orlando
Website:
SeaWorld Orlando
Address: 7007 Sea World Dr, Orlando, FL 32821
Phone: (407) 545-5550
Upcoming Events:
Events Calendar
Social Media:




Founded in 1973, SeaWorld Orlando is one of the most popular marine parks in the world and is a global leader in marine animal care and welfare, education, conservation, research and rescue.
Immerse yourself in wonder at SeaWorld Orlando theme park, where the aquatic world comes alive. Only here can you experience Orlando's new tallest, fastest and longest roller coaster, Mako, named for one of the ocean's fastest known sharks. Then, see the world through the eyes of a penguin in the thrilling, chilling adventure of Antarctica: Empire of the Penguin, and laugh to the all-new Clyde & Seamore's Sea Lion High show. Here you can also climb aboard and ride the mighty Manta, experience the power and grace of killer whales in the awe-inspiring Shamu show One Ocean, and share an epic voyage with sea turtles on the 3D 360 TurtleTrek.
View Pricing and Order Tickets Online – Skip the Long Lines & Save $

SeaWorld Orlando Videos
SeaWorld Orlando Map