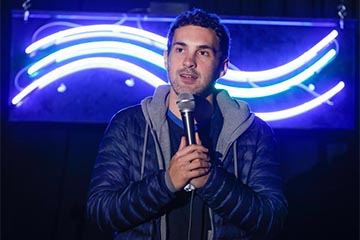 Mark Normand
Date: June 11, 2021 - June 13, 2021
Place:
Orlando Improv
Address: 9101 International Dr, Suite 2310, Orlando, FL 32819
Price: Starting at $32.00 and may change.
Tickets:
Buy Tickets
Social Media:




Comedian Mark Normand is performing at the Orlando Improv on Friday- Sunday, June 11 – 13, 2021.
Mark Normand is an American stand-up comedian and actor. He began performing stand-up in his hometown New Orleans in 2006. He has performed across the United States and abroad and has appeared on Conan, The Tonight Show Starring Jimmy Fallon and The Late Show with Stephen Colbert.
Normand has been a co-host of a weekly podcast called Tuesdays with Stories with fellow comedian Joe List since 2013.
Mark Normand on Spotify
Mark Normand Videos
Mark Normand Map