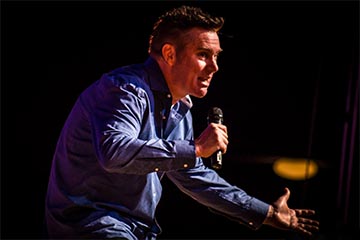 Brian Regan
Date: June 25, 2021
Time: 8:00 PM
Place:
Dr. Phillips Center for the Performing Arts
Address: 445 S Magnolia Ave, Orlando, FL 32800
Price: Starting at $49.75 and may change.
Tickets:
Buy Tickets
Website:
Brian Regan
Social Media:




Brian Regan is performing at the Dr. Phillips Center for the Performing Arts in Downtown Orlando, Florida on Friday, June 25, 2021.
Brian Regan is an American stand-up comedian who uses observational, sarcastic, and self-deprecating humor. His performances are clean as he refrains from profanity as well as taboo subject matter. Regan's material typically covers everyday events, such as shipping a package with UPS, mortgages, and visits to the optometrist. While he does not define himself as youth-oriented, Regan makes frequent references to childhood, including little league baseball, grade school spelling bees, and science projects. He incorporates body language and facial expressions into his act.
Brian Regan on Spotify
Brian Regan Videos
Brian Regan Map