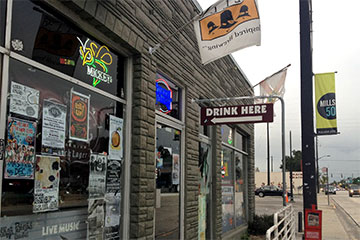 Will's Pub
Website:
Will's Pub
Address: 1042 N Mills Ave, Orlando, FL 32803
Upcoming Events:
Events Calendar
Social Media:



Will's Pub is basically a neighborhood bar that was colonized by the music community as soon as it opened in 1995. It is now known as one of Orlando's premier indie venues.
With an occupancy of 200, this church of rock has hosted acts as diverse as At The Drive-In, The Decemberists, Maserati, The Queers, Lucero, Drivin' N' Cryin', Astronautalis, The Mountain Goats, Butch Walker, Phosphorescent, Hasil Adkins, Bob Log lll, Motion City Soundtrack, King Khan & The Shrines, An Albatross, Dark Meat, The Appleseed Cast, Bowerbirds, Julie Doiron, Cymbals Eat Guitars, Rachel Goodrich, Thomas Function, Against Me, The Draft, Valencia, That 1 Guy, Scott H. Biram, Sam Rivers, Dark Castle, Skeleton Key, Iron & Wine, Aloha, Matt Pond PA, The Mercury Program, The Honorary Title, All American Rejects, The Ataris, Big D & The Kids Table, The Casualties, Darkest Hour, Leftover Crack, Mates of State, Mock Orange, Moneen, The Velvet Teen, Thee Oh Sees, Jacuzzi Boys, Gil Mantera's Party Dream, Mumiy Troll, Cory Branan, among countless others.
Will's Pub Map