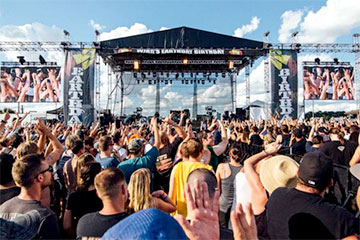 Orlando Amphitheater
Website:
Orlando Amphitheater
Address: 4603 W Colonial Dr, Orlando, FL 32808
Phone: (407) 295-3247
Upcoming Events:
Events Calendar
Social Media:



The Orlando Amphitheater is one of Central Florida's newest venues. It is an open air grass venue, inside of the Central Florida Fairgrounds, that hosts major music concerts and music festivals. It has a maximum capacity of 10,000 general admission standing and up to 7,000 with seating/lawn chairs. It is available for public and private events, including corporate events. They have hosted everyone from Blink 182, Day to Remember, Bring me the Horizon, Travis Scott, WJRR's Earthday Birthday, to Donald Trump.
Orlando Amphitheater Videos
Orlando Amphitheater Map