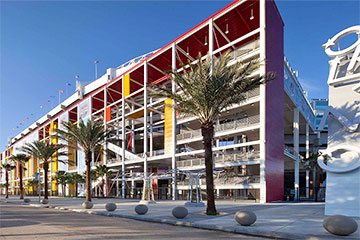 Camping World Stadium
Website:
Camping World Stadium
Address: 1 Citrus Bowl Place, Orlando, FL 32805
Phone: (407) 440-5700
Upcoming Events:
Events Calendar
Social Media:



Since opening in 1936 as a Works Progress Administration project by President Franklin D. Roosevelt, Camping World Stadium has undergone numerous expansions and name changes through the years. Following a massive $207.7 million reconstruction project in 2014, the stadium is now 90% all-new.
Among the enhancements and new amenities are 41,000 lower bowl seats with chair backs and six additional inches of leg room, two 360-degree concourses, a 20,000-square-foot plaza deck, multiple giant video displays, a vibrant open-air facade and unique indoor & outdoor club spaces for 5,000 patrons.
The stadium is the proud home of the NFL Pro Bowl, WrestleMania 33, Monster Jam, Citrus Bowl, Camping World Bowl, AutoNation Cure Bowl and the historic Florida Blue Florida Classic.
Following the complete modernization of the facility, Camping World Stadium has hosted numerous new high-profile events including Pro Bowl, Wrestlemania 33, COPA America Centenario matches, the Camping World Kickoff, The Rolling Stones, Guns N' Roses, and Metallica.
The stadium is owned and operated by the City of Orlando.
Camping World Stadium Images
Camping World Stadium Map