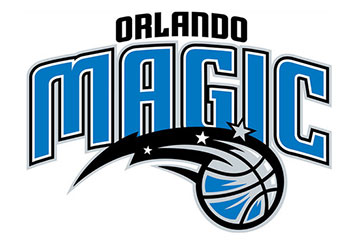 Orlando Magic
Website:
Orlando Magic
Phone: (407) 896-2442
Place:
Amway Center
Address: 400 W Church St #200, Orlando, FL 32801
Social Media:




Purchase Orlando Magic Home Game (Amway Center) Tickets

View Pricing and Availability
StubHub is a trusted resale marketplace, not a box office or venue. Prices may be above or below face value.
The Orlando Magic are a professional National Basketball Association (NBA) team based in downtown Orlando, Florida. They play in the Amway Center and are a member of the league's Eastern Conference Southeast Division. The franchise was established in 1989 as an expansion franchise, and such notable NBA stars as Shaquille O'Neal, Penny Hardaway, Nick Anderson, Grant Hill, Tracy McGrady, Dwight Howard, Jameer Nelson and Nikola Vučević have played for the club throughout its history. As of 2021, the franchise has played in the NBA playoffs 16 times in 32 seasons, and twice went to the NBA Finals, in 1995 and 2009. Orlando has been the second most successful of the four expansion teams brought into the league in 1988 and 1989 in terms of winning percentage and playoff success, after the Miami Heat.
History
On June 19, 1986, Orlando businessman Jim L. Hewitt and former Philadelphia 76ers general manager Pat Williams held a news conference to announce their intention of seeking an NBA franchise. At the same time, Hewitt and Williams held a contest in the Orlando Sentinel newspaper to get names for the new franchise. Out of a total of 4,296 submitted entries, the names were subsequently narrowed to four, "Heat", "Tropics", "Juice", and "Magic". The last one, which had been submitted by 11 people, was picked after Williams brought his 7-year-old daughter Karyn to visit in Orlando. On July 27, 1986, it was announced that the committee chose the Magic to be the new name of the Orlando franchise in the NBA. The name "Magic" alludes to the area's biggest tourist attraction and economic engine Walt Disney World, along with its Magic Kingdom. Hewitt added that "You look at all the aspects of Central Florida, and you find it really is an exciting place, a magical place."
The Magic became the first-ever major-league professional sports franchise in the Orlando area. They were one of the four new expansion franchises awarded by the NBA in 1987 along with the Charlotte Hornets, Miami Heat and Minnesota Timberwolves.
Mascot
Stuff the Magic Dragon has been the Magic's mascot since 1989. A dragon designed by Wade Harrison and Bonnie Erickson of Acme Mascots, Inc, his name is a pun on Puff the Magic Dragon, and how a slam dunk is also known as "stuffing".
Orlando Magic News
NBA – ESPN – Orlando Magic Daily – Orlando Pinstriped Post
Orlando Magic Images
Orlando Magic Videos
Orlando Magic Map