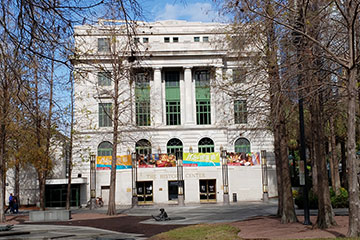 Orange County Regional History Center
Website:
Orange County Regional History Center
Address: 65 E Central Blvd, Orlando, FL 32801
Phone: (407) 836-8500
Upcoming Events:
Events Calendar
Social Media:




The Orange County Regional History Center, housed in a historic courthouse in the heart of downtown Orlando, offers four floors of exhibits exploring 12,000 years of Central Florida's rich heritage. A Smithsonian affiliate, the museum also offers visiting exhibitions and a wide range of programs for families, children, and adults. As the collector and caretaker of our shared history, the Orange County Regional History Center serves a vitally important function. From documenting defining moments in our history – including the shattering heartbreak of the 2016 Pulse Nightclub tragedy and subsequent outpouring of grief, love and solidarity for our LGBTQ, LatinX and Hispanic brothers and sisters – to bearing witness to everyday life in Central Florida, the museum plays an invaluable role by serving as our "storyteller" for generations to come. For the long-term memory of our community, and also to honor the experiences and contributions of those who came before us, the History Center is committed to expanding our shared understanding of the defining events in Central Florida's history, and of our intertwined legacies. We are deeply proud of this award-winning museum and History Center, and invite you to join us in exploring our amazing Central Florida history.
Orange County Regional History Center Images
Orange County Regional History Center Videos
Orange County Regional History Center Map