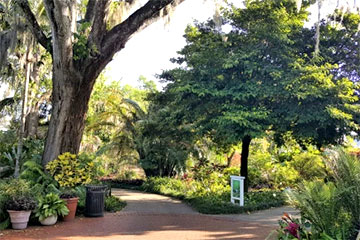 Harry P. Leu Gardens
Website:
Harry P. Leu Gardens
Address: 1920 N Forest Ave, Orlando, FL 32803
Phone: (407) 246-2620
Social Media:



The beautiful Harry P. Leu Gardens is a 50-acre botanical garden and museum located minutes from downtown Orlando. Explore the amazing and diverse plant collections and tour the historic Leu House Museum of the families who lived called the gardens home. Explore centuries old majestic oaks cascading over winding pathways leading to a wonderful botanical oasis just minutes from downtown Orlando. Among one of the south's outstanding camellia collection sits Florida's largest formal rose garden. Experience paradise by strolling through the tropical stream garden with gingers, cycads, and banana collection. Encounter a kaleidoscope of colors any time of the year in the color and butterfly gardens. Step back in time with a visit to the historic home, the Leu House Museum, listed on the National Register of Historic Places. A 15-acre section of the park is a U.S. historic district. As such, it is known as the Mizell-Leu House Historic District (or Leu Botanical Gardens and Leu House Museum). It received that designation on December 29, 1994.
Harry P. Leu Gardens Videos
Harry P. Leu Gardens Map