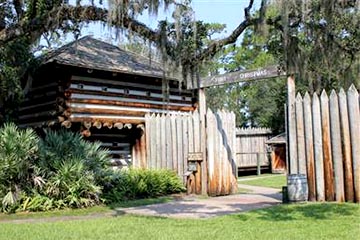 Fort Christmas Historical Park
Website:
Fort Christmas Historical Park
Address: 1300 N Fort Christmas Rd, Christmas, FL 32709
Phone: (407) 254-9312
Social Media:

Fort Christmas is located in Christmas, Florida just off State Road 50, twenty miles east of Orlando enroute to Kennedy Space Center, Merritt Island National Wildlife Refuge, and Canaveral National Seashore in Titusville.
On December 25, 1837, a force of 2,000 U.S. Army Soldiers and Alabama Volunteers arrived near this spot to construct a fort which was aptly named, Fort Christmas. This fort was only one of over 200 forts built during the Second Seminole Indian War, 1835 – 1842. The fort houses exhibits and a video presentation on the Seminole Indian Wars.
Visit the full size replica of Fort Christmas. Seven restored historical homes preserve the 'Cracker' architecture of East Orange County. The houses are interpreted to show pioneer life from the 1870s through the 1930s. Key themes are homesteading, cattle, citrus, hunting, fishing and trapping. The Fort Christmas Historical Society and Orange County Parks and Recreation Division.
The Park has three picnic pavilions two of which seat 100 people and one which seats 50 people. Each pavilion has a large barbeque grill, electrical outlets and water hose. For pavilion rental please call. There is a playground with swings, slide, a fort looking jungle gym, and an area for small children. There is a basketball court, tennis court and a small baseball field.
Fort Christmas Historical Park Videos
Fort Christmas Historical Park Map