The Allman Betts Band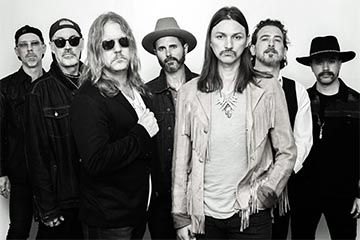 Date: June 5, 2021
Time: 8:00 PM - 11:30 PM
Place:
Hard Rock Live Orlando
Address: 6050 Universal Blvd, Orlando, FL 32818
Price: Starting at $35.50 and may change.
Tickets:
Buy Tickets
Website:
The Allman Betts Band
Social Media:




The Allman Betts Band is performing at the Hard Rock Live in Orlando, Florida on Saturday, June 5, 2021. The Allman Betts Band is an American rock group. Formed in November 2018, it includes the sons of three founding members of the Allman Brothers Band – Devon Allman (son of Gregg Allman), Duane Betts (son of Dickey Betts), and Berry Duane Oakley (son of Berry Oakley). The band plays mostly original songs, with some covers of Allman Brothers songs mixed in. They have toured nationally and internationally, and have released two albums – Down to the River (2019) and Bless Your Heart (2020).
The Allman Betts Band Videos
The Allman Betts Band Map