Smith & Myers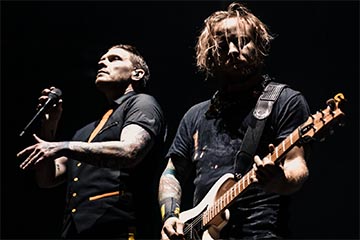 Date: December 10, 2020
Time: 8:00 PM
Place:
Dr. Phillips Center for the Performing Arts
Address: 445 S Magnolia Ave, Orlando, FL 32800
Price: Starting at $45.00 and may change.
Tickets:
Buy Tickets
Website:
Smith & Myers
Social Media:




Smith & Myers are performing at the Dr. Phillips Center for the Performing Arts in Downtown Orlando, Florida on Friday, December 11, 2020.
Smith & Myers—the duo of Brent Smith and Zach Myers from multiplatinum band Shinedown—reimagine beloved chapters of the American songbook alongside their own bold contributions, with nothing more than a microphone and an instrument or two. Their eloquent songcraft transmits powerful lyrics, intimate delivery, indelible melodies and glorious vocals uplifted by minimal accompaniment and amplified by maximum emotion.
They've delivered their double album in two parts: Smith & Myers Volume 1 and Volume 2, comprised of 10 originals and 10 brilliant re-imaginings of Neil Young, Post Malone, INXS, Mark Ronson and Amy Winehouse, The Righteous Brothers, Billie Eilish, Peter Gabriel, Billy Idol, R.E.M. and Oasis. These releases are Smith & Myers' first full-lengths as a duo since releasing a pair of acoustic cover EPs—Acoustic Sessions, Part 1 and Acoustic Sessions, Part 2—in 2014. and major mainstream media acclaim under their belt. Smith & Myers illuminates the depth of Brent and Zach as a duo and showcases a very different yet just as powerful musical side of these two versatile musicians.
Smith & Myers Videos
Smith & Myers Map