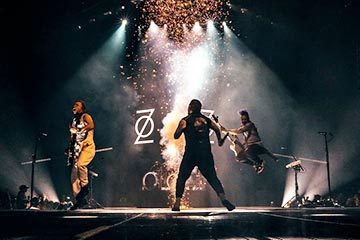 Shinedown
Date: April 15, 2023
Time: 7:00 PM
Place:
Amway Center
Address: 400 W Church St #200, Orlando, FL 32801
Price: Starting at $71.00 and subject to change.
Shinedown is performing at the Amway Center in downtown Orlando, Florida on Saturday, April 15, 2023 at 7:00 PM.
Shinedown is an American rock band from Jacksonville, Florida, formed by singer Brent Smith in 2001 after the dissolution of Dreve, his previous band. Smith, still under contract with record label Atlantic Records, recruited the band's original lineup of Jasin Todd as guitarist, Brad Stewart on bass, and Barry Kerch on drums. Consistent for the first two album cycles, a few lineup changes followed in the late 2000s, eventually stabilizing with Smith and Kerch alongside Zach Myers on guitar and Eric Bass on bass. The group has released seven studio albums: Leave a Whisper (2003), Us and Them (2005), The Sound of Madness (2008), Amaryllis (2012), Threat to Survival (2015), Attention Attention (2018), and Planet Zero (2022).
Shinedown has the most number one singles on the Billboard Mainstream Rock charts with 18, and all of their released singles have reached the top 5 on the chart. Additionally, on June 3, 2021, Shinedown was ranked #1 by Billboard on the Greatest of All Time Mainstreams Rock Artists chart released to celebrate the Mainstream Rock Chart's 40th Anniversary. To date, the band has sold more than 10 million records.
Shinedown on Spotify
Shinedown Videos
Amway Center Map