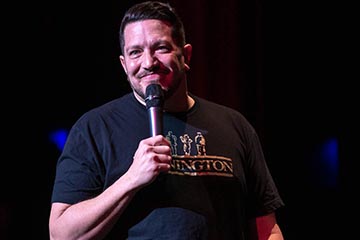 Sal Vulcano
Date: December 3, 2022
Time: 7:00 PM
Place:
Hard Rock Live Orlando
Address: 6050 Universal Blvd, Orlando, FL 32818
Price: Starting at $56.00 and subject to change.
Sal Vulcano is performing at the Hard Rock Live in Orlando, Florida on Saturday, December 3, 2022 at 7:00 PM.
Salvatore Edward Anthony Vulcano (born November 6, 1976) is an American improvisational and stand-up comedian, actor, and producer from the New York City borough of Staten Island. He is a member of The Tenderloins, a comedy troupe consisting of himself, James Murray, Brian Quinn, and formerly Joe Gatto. Along with the other members of The Tenderloins, he stars in the television series Impractical Jokers, which first aired on December 15, 2011, on TruTV.
Sal Vulcano Videos
Hard Rock Live Orlando Map