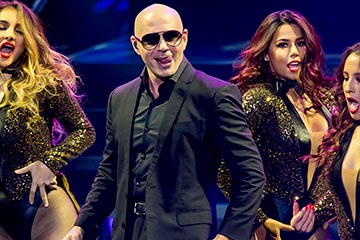 Pitbull & Iggy Azalea
Date: October 16, 2022
Time: 8:00 PM
Place:
Amway Center
Address: 400 W Church St #200, Orlando, FL 32801
Price: Starting at $44.00 and subject to change.
Purchase Pitbull & Iggy Azalea Tickets

View Pricing and Availability
StubHub is a trusted resale marketplace, not a box office or venue. Prices may be above or below face value.
Pitbull & Iggy Azalea are performing at the Amway Center in downtown Orlando, Florida on Sunday, October 16, 2022 at 8:00 PM.
Armando Christian Pérez (born January 15, 1981), known professionally by his stage name Pitbull, is an American rapper and singer. Pérez began his career in the early 2000s, recording reggaeton, Latin hip hop, and crunk music under a multitude of labels. Pitbull has sold over 25 million studio albums and over 100 million singles worldwide. He has over 15 billion views on YouTube as of May 2020. He was ranked by Billboard as the 45th Top Artist of the 2010s and the 24th Top Latin Artist of the 2010s. Pitbull's other ventures include brand ambassadorship and for various entities, activism and philanthropy in the Latino American community, a radio station (Pitbull's Globalization) on Sirius XM Radio and ownership of the Trackhouse Racing NASCAR team. As of May 2019, Pitbull has won 35 Billboard Latin Music Awards.
Pitbull & Iggy Azalea on Spotify
Pitbull & Iggy Azalea Videos
Amway Center Map