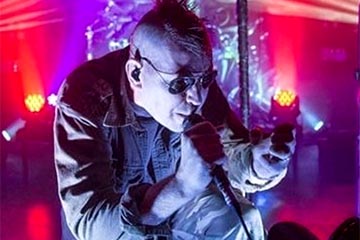 KMFDM
Date: September 29, 2022
Time: 8:00 PM
Place:
Hard Rock Live Orlando
Address: 6050 Universal Blvd, Orlando, FL 32818
Price: Starting at $51.00 and subject to change.
KMFDM is performing at the Hard Rock Live in Orlando, Florida on Thursday, September 29, 2022 at 8:00 PM.
KMFDM (originally Kein Mehrheit Für Die Mitleid, loosely translated by the band as "no pity for the majority") is a multinational industrial band from Hamburg led by Sascha Konietzko, who founded the band in 1984 as a performance art project. Critics consider KMFDM one of the first bands to bring industrial music to mainstream audiences, though Konietzko refers to the band's music as "The Ultra-Heavy Beat". The band incorporates heavy metal guitar riffs, electronic music, samples, and both male and female vocals in its music, which encompasses a variety of styles including industrial rock and electronic body music. The band is fiercely political, with many of its lyrics taking stands against violence, war, and oppression.
KMFDM on Spotify
KMFDM Videos
Hard Rock Live Orlando Map