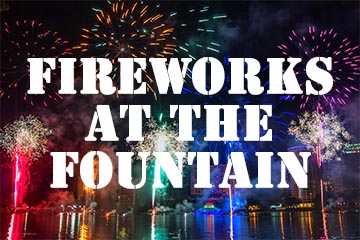 Fireworks at the Fountain
Date: July 4, 2022
Time: 5:00 PM - 10:00 PM
Place: Lake Eola Park
Address: 512 E Washington St, Orlando, FL 32801
Website:
Fireworks at the Fountain
Social Media:



Join Orlando Mayor Buddy Dyer for the 45th annual Fireworks at the Fountain on Monday, July 4 at Lake Eola Park. From 5:00 PM to 10:00 PM, enjoy live entertainment, family friendly fun, and food and beverages available for purchase from a variety of vendors.
What Time Do the Orlando Fireworks Start?
The Orlando Fireworks at the Fountain start at 9:15 PM (weather permitting). The sky will illuminate with a spectacular fireworks finale, set to a live patriotic performance by the Orlando Concert Band.
Parking
Parking is available in downtown surface lots and garages. Click here for an interactive map of options. FYI – be prepared for a traffic jam after the show. I was stuck in a The Plaza South Tower parking garage for over an hour after a show once. You might want to find a parking garage that is a little further away from the heart of downtown.
View the Orlando Fireworks on TV or Online
If you can't make it to Lake Eola you can still watch the festivities live on News 6 WKMG starting at 8:00 PM, or stream online at clickorlando.comm.
Fireworks at the Fountain Images
Fireworks at the Fountain Videos
Fireworks at the Fountain Map