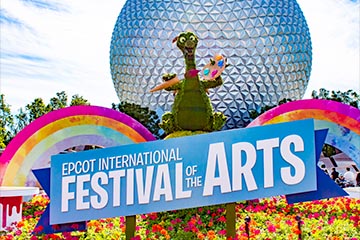 Epcot International Festival of the Arts
Date: January 13, 2023 - February 20, 2023
Place: Epcot
Address: 200 Epcot Center Dr, Orlando, FL 32821
Website:
Epcot International Festival of the Arts
Explore and immerse yourself in a world of artistry, color, culture and creativity at the Epcot International Festival of the Arts, from January 13 to February 20, 2023.

*View Pricing and Order Tickets Online – Disney Theme Park Ticket Deals on Expedia*
Admire colorfully curated collections from Disney artists old and new! Contemplate original works that exude nothing short of pure brilliance. These special shows provide an up-close look at the techniques that catapulted these creatives into super-stardom!
Our smorgasbord of visual treats is sure to please! Peruse pure Disney brilliance at stunning exhibitions you'll never forget. Festival Markets will spotlight artists who infuse their distinctive styles into a wide variety of creative mediums—photography, paper sculpting and so much more! Plus, get involved and be part of the creative process! At some of the Festival Markets, you will have the opportunity to choose custom elements like color and personalization of your new piece of art and watch it come to life before your very eyes.
Artful Photo Ops – Strike a pose for masterpiece pics against artistic backdrops. Ready for your close-up? Cross the Delaware with George Washington, scream along with Edvard Munch and flash your best Mona Lisa smile at immersive photo stops that let you "step into" some of the most-admired artwork from around the world—located throughout World Showcase.
Epcot International Festival of the Arts Images
Epcot International Festival of the Arts Videos
Epcot Map