Epcot International Festival of the Arts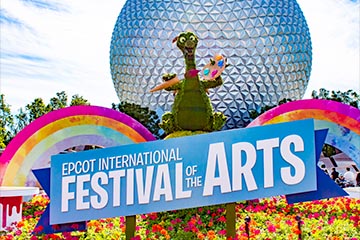 Date: January 18, 2019 - February 25, 2019
Place: Epcot
Address: 200 Epcot Center Dr, Orlando, FL 32821
Website:
Epcot International Festival of the Arts
---
Details
Explore a world of artistry at the Epcot International Festival of the Arts, from January 18 to February 25, 2019. Acquire new skills, visit galleries and witness exceptional talent that proves the power of imagination! Disney's smorgasbord of visual treats is sure to please! Peruse pure Disney brilliance at stunning exhibitions you'll never forget. Visiting galleries will spotlight artists who infuse their distinctive styles into every brushstroke. Learn the latest creative techniques and tricks of the trade during hands-on workshops and complimentary seminars with accomplished professionals—including animation drawing, flower arranging, watermelon carving and more. Keep your eyes peeled for art-inspired photo opportunities and Festival merchandise that provides a great way to remember your visit.
Visual Arts Highlights
• Animation Academy
• Artful Photo Ops
• Art on Demand
• Festival merchandise
• Figment's Brush with the Masters Scavenger Hunt
• Galleries – with the opportunity to purchase pieces from participating artists
• Expression Section: A Paint by Number Mural
• Workshops and seminars with visiting artists
Admire colorfully curated collections from Disney artists old and new! Contemplate original works that exude nothing short of pure brilliance. These special shows provide an up-close look at the techniques that catapulted these creatives into super-stardom!
Pavilion Galleries
• American Heritage Gallery (American Adventure) – Explore the artistry of American Indian communities from 7 geographic regions across the United States.
• Bijutsu-kan Gallery (Japan) – Delve into the origin and evolution of "kawaii," Japan's cute culture.
• Gallery of Arts and History (Morocco) – Check out the unique designs of time-honored crafts.
• House of the Whispering Willows (China) – Discover the wonders of the new Shanghai Disney Resort.
• Mexico Folk Art Gallery (Mexico) – Celebrate the artistry and traditions of Día de Muertos.
• Stave Church Gallery (Norway) – Observe art representational of the culture that influenced Disney's Frozen.
• Chalk Gallery – See forced perspective chalk art with a three-dimensional look and watch imaginative artists recreate works by famous masters.
---
Videos
---
Map