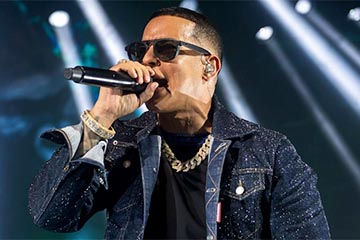 Daddy Yankee
Date: December 18, 2022 - December 19, 2022
Place:
Amway Center
Address: 400 W Church St #200, Orlando, FL 32801
Price: Starting at $94.00 and subject to change.
Daddy Yankee is performing at the Amway Center in downtown Orlando, Florida on Sunday & Monday, December 18-19, 2022.
Ramón Luis Ayala Rodríguez, known professionally as Daddy Yankee, is a Puerto Rican rapper, singer, songwriter, and actor. Known as the "King of Reggaetón" by music critics and fans alike, he is the artist who coined the word reggaeton in 1994 to describe the new music genre that was emerging from Puerto Rico that synthesized American hip-hop, Hispanic Caribbean music, and Jamaican reggae rhythms with Spanish rapping and singing. He is often cited as an influence by other Latin urban performers. As of March 2022, Daddy Yankee has won 184 awards from 484 nominations. He has won five Latin Grammy Awards, two Billboard Music Awards, 14 Billboard Latin Music Awards, two Latin American Music Awards, eight Lo Nuestro Awards, an MTV Video Music Award, and six ASCAP Awards. He also received a Puerto Rican Walk of Fame star, special awards by People en Español magazine, and the Presencia Latina at Harvard University. He was named by CNN as the "Most Influential Hispanic Artist" of 2009, and included in Time 100 in 2006.
Daddy Yankee on Spotify
Daddy Yankee Videos
Amway Center Map