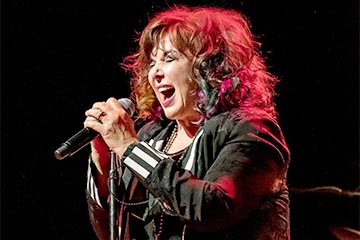 Ann Wilson
Date: June 24, 2021
Time: 8:30 PM - 10:00 PM
Place:
Hard Rock Live Orlando
Address: 6050 Universal Blvd, Orlando, FL 32818
Price: Starting at $36.50 and may change.
Tickets:
Buy Tickets
Website:
Ann Wilson
Social Media:



Ann Wilson is performing at the Hard Rock Live in Orlando, Florida on Thursday, June 24, 2021.
Ann Wilson is an American musician best known as the lead singer and songwriter of the rock band Heart. Wilson has been a member of Heart since the early 1970s; her younger sister, Nancy Wilson, is also a member of the band. The first hard rock band fronted by women, Heart released numerous albums throughout the late 1970s and 1980s; the albums Dreamboat Annie (1975), and Little Queen (1977) generated chart singles such as "Magic Man", "Crazy on You", and "Barracuda".
Heart has sold over 35 million records worldwide and has placed top 10 albums on the Billboard 200 in the 1970s, 1980s, 1990 and 2010s. Wilson was ranked no. 78 in Hit Parader's 2006 list of "Greatest Heavy Metal Vocalists of All Time".
In 2013, Wilson she was inducted into the Rock and Roll Hall of Fame as a member of Heart.
Ann Wilson on Spotify
Ann Wilson Videos
Ann Wilson Map