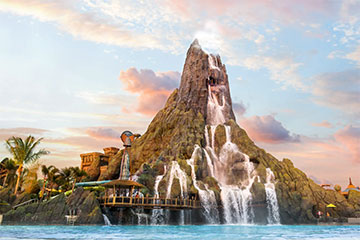 Universal's Volcano Bay
Website:
Universal's Volcano Bay
Address: 6000 Universal Blvd, Orlando, FL 32819
Phone: (407) 363-8000
Social Media:




It's a water theme park. Which is like a theme park with a whole lotta water. And that big thing in the middle is just like a real volcano. 'Cause you know volcanoes have water slides, the kind that'll make you chicken out at the last minute unless your friends (or kids) peer pressure you. And if you're more a go-with-the-flow type, we got chill things like a winding river, wave pool—oh, and lounge chairs. Doesn't get chiller than that. Remember, it's a South Seas oasis (and nothing says oasis like a volcano).
Universal's Volcano Bay Videos
Universal's Volcano Bay Map