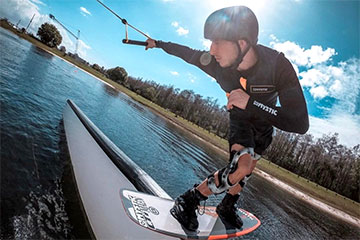 Orlando Watersports Complex
Website:
Orlando Watersports Complex
Address: 8615 Florida Rock Rd, Orlando, FL 32824
Phone: (407) 251-3100
Social Media:



Orlando Watersports Complex is a boat and cable park operation that delivers customers an active, watersports lifestyle that is safe, healthy, family friendly, and environmentally conscious. It's a unique watersports park designed for wakeboarding, wakeskating, kneeboarding and waterskiing. Over the past 10 years, Orlando Watersports Complex has established itself as the premiere locale for riders of all levels. From beginning riders just wanting to try the sport for recreation, to the professional wakeboarders and skiers from all over the world.
The most beneficial aspect of the park is the immense amount of time you can spend on the water. OWC is the only facility in the United States to have two cableways; our beginner/intermediate cable park and our slider park. The cableways allow for unlimited riding time to improve the foundation skills for wakeboarding, wakeskating and skiing. In addition to the cableways, OWC is a great place to train behind Nautique boats, with their professional coaching staff. Riders and skiers of all skill levels are welcome. The highly motivated staff will help everybody, from beginner to advanced, with some tips. You can bring your own board or rent a board at their on site Pro Shop.
Orlando Watersports Complex Videos
Orlando Watersports Complex Map