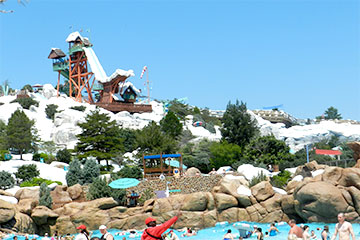 Disney's Blizzard Beach Water Park
Website:
Disney's Blizzard Beach Water Park
Address: 1534 Blizzard Beach Drive, Orlando, FL 32836
Phone: (407) 560-3400
Social Media:




Summit Plummet – plunge 12 stories almost straight down, rocketing through a darkened tunnel and into a massive spray of whitewater after a 360-foot-long, high-speed descent. Toboggan Racers – grab your mat, take your mark and zip headfirst on your belly to the bottom of Mount Gushmore on a 250-foot-long "toboggan" race that features 3 exhilarating dips and hills. Tike's Peak – watch your little squirts splash out in wading pools featuring "melting" snow sculptures—or start a water fight at an igloo fortress with pop-up water jets. Runoff Rapids – get ready for some splash-tastic fun as you launch into a trio of one-of-a-kind flumes—no 2 are the same! Experience 3 times the thrills and spills as they careen 600 feet down the mountain.
Disney's Blizzard Beach Water Park Videos
Disney's Blizzard Beach Water Park Map