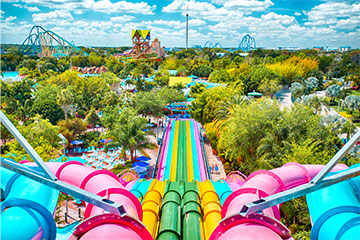 Aquatica Orlando
Website:
Aquatica Orlando
Address: 5800 Water Play Way, Orlando, FL 32821
Phone: (407) 545-5550
Social Media:


From high-speed water slides and near-vertical thrills to exhilarating wave pools to tranquil beaches, Aquatic Orlando water park delights all ages and interests. This one-of-a-kind water park is home to some of the world's most thrilling water rides, featuring 42 slides, rivers and lagoons and 84,000 square feet of sparkling white, sandy beaches. All of their water is heated up to 82°F year-round. Aquatica offers exclusive attractions that promise unlimited fun, sending guests on amazing undersea adventures and through breathtaking animal exhibits.
View Pricing and Order Tickets Online

Aquatica Orlando Videos
Aquatica Orlando Map