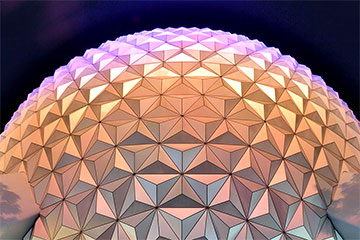 Epcot
Website:
Epcot
Address: 200 Epcot Center Dr, Lake Buena Vista, FL 32821
Phone: (407) 939-5277
Upcoming Events:
Events Calendar
Social Media:





*View Pricing and Order Tickets Online – Disney Theme Park Ticket Deals on Expedia*
Epcot is a theme park at the Walt Disney World Resort. Inspired by an unrealized concept developed by Walt Disney, the park opened on October 1, 1982, as EPCOT Center, and was the second of four theme parks built at Walt Disney World, after the Magic Kingdom. Spanning 305 acres, more than twice the size of the Magic Kingdom park, Epcot is dedicated to the celebration of human achievement, namely technological innovation and international culture, and is often referred to as a "permanent world's fair". In 2019, Epcot hosted 12.44 million guests, ranking it as the fourth-most-visited theme park in North America and the seventh-most-visited theme park in the world. The park is represented by Spaceship Earth, a geodesic sphere.
Epcot Videos
Epcot Map