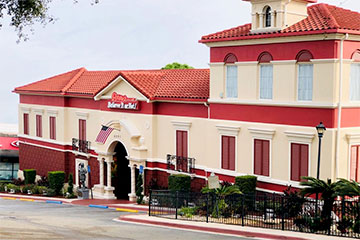 Ripley's Believe It or Not
Website:
Ripley's Believe It or Not
Address: 8201 International Dr, Orlando, FL 32819
Phone: (407) 345-0501
Social Media:




Discover the strange, the shocking, the bizarre, and the beautiful at Ripley's Believe It or Not! in Orlando, Florida. The amazing 10,000 square foot "Odditorium" looks like it's falling into a Florida sinkhole! Hundreds of fascinating, outrageous, and interactive exhibits will entertain the entire family. Marvel at our collection of weird and unusual relics and rare treasures. Explore an unbelievable variety of artifacts and displays in 16 unique galleries that pay tribute to the odd, the strange, and the downright unbelievable!
Enjoy incredible eye-popping exhibits where you can pose with the world's tallest man, a genuine shrunken head, a 6-legged pig, lose yourself in some mind-boggling visual illusions, and even see a vampire killing kit! The array of weird will leave you awe-struck. You've found your one-stop family fun in Orlando. The self-guided, self-paced tour allows you to fully enjoy Orlando's most bizarre attraction.
Established in 1918, Ripley's is inspired by stories of people and places that are incredibly hard to believe, but undeniably true! The Ripley collection includes 20,000 photographs, 30,000 artifacts and more than 100,000 cartoon panels. Originally a newspaper panel, the Believe It or Not feature proved popular and was later adapted into a wide variety of formats, including radio, television, comic books, a chain of museums and a book series.
Pricing and Tickets
Children (3-11): $18.99
Adults (12 & Up): $29.99
Collection Book: $3.00
Purchase Tickets Online
Inquire About Group Rates
Hours
Mon – Thu: 10:00 AM – 09:00 PM
Fri – Sun: 10:00 AM – 12:00 AM
Ripley's Believe It or Not Images
Ripley's Believe It or Not Videos
Ripley's Believe It or Not Map