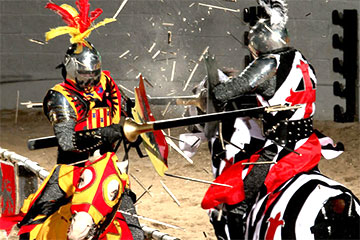 Medieval Times Dinner & Tournament
Website:
Medieval Times Dinner & Tournament
Address: 4510 W Vine St, Kissimmee, FL 34746
Phone: (407) 396-2900
Social Media:



Medieval Times is an exciting, family-friendly dinner attraction inspired by an 11th century feast and tournament. Guests are served a four-course banquet and cheer for one of six Knights competing in the joust and other tests of skill. Expect almost two hours of jousting, swordsmanship, thrilling hand-to-hand combat, displays of extraordinary horsemanship and falconry as part of an exciting yet touching story set in Medieval Spain. Medieval Times also features an excellent bar, gift shop, Hall of Arms displaying medieval artifacts and a medieval torture museum.
Medieval Times Dinner & Tournament Videos
Medieval Times Dinner & Tournament Map