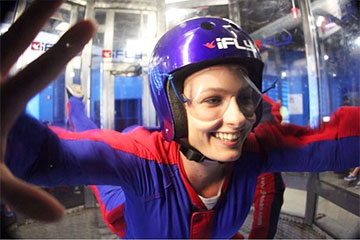 iFLY Indoor Skydiving
Website:
iFLY Indoor Skydiving
Address: 8969 International Drive, Orlando, FL 32819
Phone: (407) 337-4359
Social Media:




Experience the thrill of skydiving without jumping out of an airplane! iFLY makes the dream of flight a reality by giving you "wings" in a safe and reliable environment. Their expert instructors show you how to take off and fly in the most technologically advanced body flying tunnels in the world. Whether you want to try something truly unique for a special occasion or start a new lifelong adventure in flying, they'll make sure you fully experience the awesomeness of your dream of flight. iFLY Indoor Skydiving is perfect for children, teens, adults, birthday parties, corporate groups, gifts, impromptu dates and much more. Flight Packages are available for all skills and budgets.
iFLY Indoor Skydiving Videos
iFLY Indoor Skydiving Map