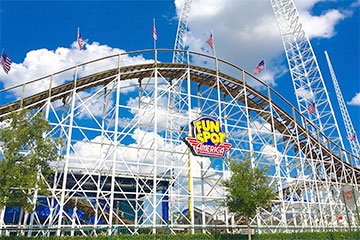 Fun Spot America
Website:
Fun Spot America
Address: 5700 Fun Spot Way, Orlando, FL 32819
Phone: (407) 363-3867
Social Media:




View Deal: Save 20% on Fun Spot America Tickets at Living Social
Fun Spot America is a family-owned business with a long history in the entertainment park industry. The park opened on December 24, 1997 and introduced their patented design multi-level go-kart tracks. In June 2013, Fun Spot Action Park underwent a 15‐acre renovation and expansion including a name change to Fun Spot America. The Orlando location now boasts Central Florida's only wooden roller coaster along with the second tallest SkyCoaster in the world, the tallest being at their Kissimmee, FL location. There is something for all ages. Enjoy free parking and free admission.
List of Rides
Hours and Directions
Park Map
Fun Spot America Images
Fun Spot America Videos
Fun Spot America Map