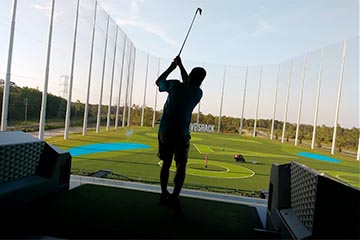 Drive Shack
Website:
Drive Shack
Address: 7285 Corner Dr, Orlando, FL 32827
Phone: (407) 553-8820
Social Media:



Drive Shack's all about having a good time, how ever you want. You can relax and watch the games while hitting long-balls with friends, or share apps and laughs with the family. All from the comfort of our restaurant, game lounge, rooftop. or bays. Keep track of your swing speed, ball speed, apex height, spin rates and distances with Drive Shack's technology.
Features
90 Full Service All-Weather Hitting Bays Across 3 Levels
300+ TVs for Game-watching and Entertainment
Interactive Games & Golf Courses to Play
Grill & Bar Restaurant
Rooftop Terrace Lounge
Flexible Meeting Spaces for Events
Drive Shack Academy Featuring PGA Golf Pro
Free Use of Custom TaylorMade Golf Clubs
Unlimited Golf Balls & Free Play Game Lounge
Hours
Sun – Thu: 9:00 AM – 11:00 PM
Fri – Sat: 9:00 AM – 1:00 AM
Prices (Valid for up to 6 players per bay – Taxes not included)
OPEN – 12:00 PM: $30 per hour
12:00 PM – 5:00 PM: $40 per hour
5:00 PM – CLOSE: $50 per hour
Drive Shack Images
Drive Shack Videos
Drive Shack Map