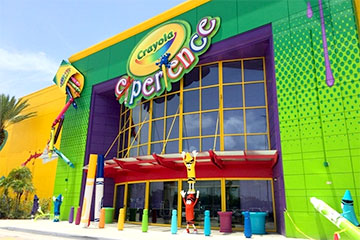 Crayola Experience
Website:
Crayola Experience
Address: 8001 South Orange Blossom Trail, Orlando, FL 32809
Phone: (407) 757-1700
Upcoming Events:
Events Calendar
Social Media:



Discover the magic of color at Crayola Experience, Crayola's premier, one-of-a-kind family attraction! Dozens of hands-on, creative activities and a full day of fun awaits families in Orlando at The Florida Mall. Bigger, brighter and bolder than ever, the colorful adventures of Crayola Experience help kids and adults alike explore art and technology, express their creativity and experience color in a whole new way. Immerse yourself in the world of the beloved crayon company and learn all about their mission to make the world a more colorful place. Plan your visit today and get ready to make colorful family memories that will last a lifetime!
Discover the magic of color with over 20 different hands-on attractions within this family-friendly destination. It's a vibrant world that only Crayola could have created, designed to offer a half-day of stimulating and creative play that's rewarding for all ages. Children enjoy the opportunity to come up with imaginative creations that are as unique as they are.
See how crayons are made during a live theater show before creating and wrapping your very own Crayola crayon. Watch as your digital art comes to life on a huge interactive wall, and watch as a page you colored transforms into a real-life adventure. You can also create keepsakes with melted wax and climb a 2-story color playground.
Features
Activity Studio – A day at Crayola wouldn't be complete without a "cut, color, and paste" themed project! Craft rock star, jungle explorer or superhero gear- themes change regularly to keep your creative juices flowing all year long.
Adventure Lab – Solve colorful puzzles and riddles using a "magic" tablet in this immersive attraction.
Be a Star – Say Macaroni & Cheese! Become the star at this coloring page photobooth! Appear in your very own coloring page along with some of Crayola's characters! Just like a real photobooth, becoming a coloring page is as easy as pushing a button & posing.
Bluetiful – Snap a photo with the largest Crayola crayon! Bluetiful – the world's largest Crayola crayon weighing 1,352 pounds and 15.6 feet long is now on display and has made Crayola Experience its permanent home.
Café Crayola – Creativity can burn a lot of calories! Relax and recharge at Café Crayola where you can enjoy Crayola inspired foods! Currently open weekends only.
Color Playground – Your kids will go crazy for the 2-story climber where they can wiggle up a melted wax tower, then bounce and splat across our paint bridge. Winding and squeeeeezing their way through obstacles, kids can slide out of the crayon box only to climb their way up again!
Crayon Factory Show – Did you know that Crayola crayons were being made right in The Florida Mall? Join the animated crayon friends, Scarlet & Turk (Turquoise), as they show you how crayons are made in a live theatre show. Learn from our resident Crayonologist why Crayola crayons are the best as well as discover some little known facts about the world's most iconic colorful tools!
Rainbow Rain – In this interactive experience guests can magically catch digital melted wax in their hands and arms and even bounce it off their heads. Watch as your image catches the brightly-colored droplets in this digital marvel that is controlled by your movement.
View the Crayola Experience's full list of attractions and things to do.
Hours
Wed – Fri: 10:00 AM – 4:00 PM
Sat – Sun: 10:00 AM – 6:00 PM
Mon – Tue: Closed
Make sure to check out their calendar for special holiday hours.
Crayola Experience Videos
Crayola Experience Map