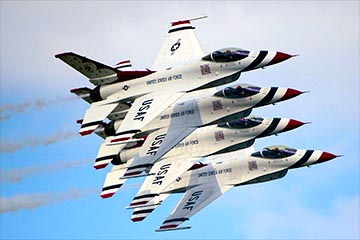 2022 Orlando Air and Space Show
Date: October 29, 2022 - October 30, 2022
Time: 9:00 AM
Place: Orlando Sanford International Airport
Address: 1200 Red Cleveland Blvd, Sanford, FL 32773
Price: Starting at $35.00 and subject to change.
Tickets:
Buy Tickets
Website:
2022 Orlando Air and Space Show
The 2022 Orlando Air and Space Show, featuring the Air Force Thunderbirds, is coming to the Orlando Sanford International Airport in Sanford, Florida on Saturday & Sunday, October 29-30, 2022. Gates open at 9:00 AM.
You can save money by ordering tickets online in advancehttps://airandspaceshow.com/purchase-tickets/
General Admission – Advanced Adult Ticket: $35.00
General Admission – Advanced Child Ticket: $23.25
View the air show line up: https://airandspaceshow.com/performer-line-up/
Can't make it to the show? You can view it online for free at: https://air.show/livestream/
The USAF Air Demonstration Squadron ("Thunderbirds") is the air demonstration squadron of the United States Air Force (USAF). The Thunderbirds are assigned to the 57th Wing, and are based at Nellis Air Force Base, Nevada. Created 69 years ago in 1953, the USAF Thunderbirds are the third-oldest formal flying aerobatic team (under the same name) in the world, after the French Air Force Patrouille de France formed in 1931 and the United States Navy Blue Angels formed in 1946. The Thunderbirds Squadron tours the United States and much of the world, performing aerobatic formation and solo flying in specially marked aircraft. The squadron's name is taken from the legendary creature that appears in the mythologies of several indigenous North American cultures.
2022 Orlando Air and Space Show Videos
Orlando Sanford International Airport Map